North Carolina. South Carolina. Virginia.
Carolina's Most Popular Magicians
| | |
| --- | --- |
| Posted on August 20, 2020 at 10:58 PM | |
Carolina's Top Magicians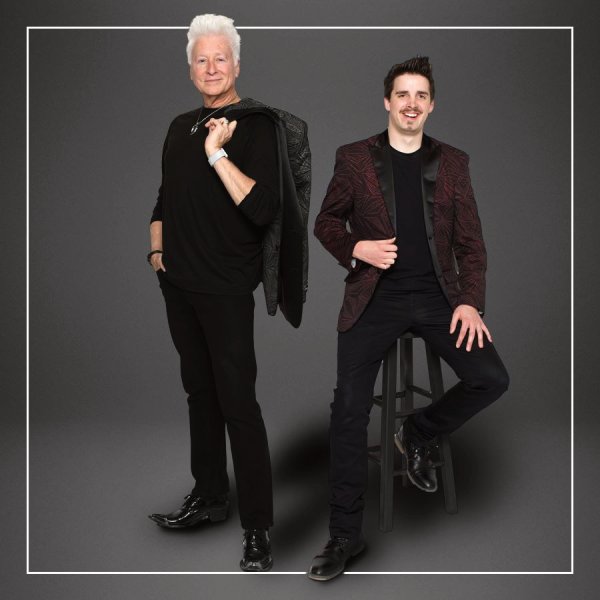 - Chris and Neal -
Chris and Neal are the two illusionists who make up this dynamic duo.
Chris Bays, native to the Jacksonville, North Carolina region has been fascinated with magic since middle school. As a teenager, his family would go on vacation to Gatlinburg, Tennessee each year. It was in Gatlinburg that Chris visited his very first magic shop and absolutely fell in love with magic. Combining Chris' passion for showmanship and theater along with his new found ambition in magic was a sure-fire hit.
Neal Chamberlain's journey with magic began at an earlier age. Growing up in the 1990's, Neal's mom and dad would let him browse through an annual Lillian Vernon catalog and circle things Neal thought were cool. Well, Neal circled, highlighted and put stars all around a magic kit that caught his eye. That year his Granny and Grampy gifted Neal that magic set for Christmas. These illusions helped Neal make new friends, develop interpersonal communication skills and more. Years later and Neal's passion for magic has only grown.
Back in 2009 Chris and Neal decided to join forces and create a powerful magical duo similar to Siegfried and Roy. No fancy theater, flash pots, tigers or elephants though. Chris and Neal's desire was to bring quality clean family entertainment into homes for children's birthday parties.
Through their mutual love of performing and magic Chris and Neal became best friends and were on fire with energy and excitement in creating the impossible. Despite the odds Chris and Neal were laser focused and determined to build out a strong brand as successful family magicians in the Jacksonville, North Carolina area.
Chris and Neal learned the key to it all was making sure kids were laughing and smiling. Fun is fun! And fun is contagious. So is laughter. There is no difference the crowd, community, etc. People love to laugh, smile and share in meaningful moments. People want to briefly escape reality. Whether Chris and Neal are performing in Raleigh, North Carolina or Virginia Beach, Virginia they know the key is smiling faces lit up in wonder and joy.
Within a short period of time Chris and Neal were even traveling to Raleigh, Durham, Chapel Hill, Cary and Wake Forest to perform magic shows for children's birthday parties.
Only a few years later Chris and Neal's magic start up was doing quite well. It was at this time Chris was able to leave his full time job in the corporate world. The Lord opened the doors for Chris to finally purse his dreams.
Chris also ran into Mike, of Mike's Farm, late summer one year who inquired about Chris and Neal performing their magic show for the elementary school tours they have on the farm each year. It has been a dream for Chris and Neal to work with Mike's Farm and perform for their school tours. Chris and Neal even have merchandise available in the Mike's Farm gift shop including a Rising Magic Wand and their Ultimate Magic Kit.
By this time Chris and Neal were performing magic shows all across Jacksonville, North Carolina even into Sneads Ferry, Morehead City, Swansboro, Camp Lejeune and Wilmington.
Chris and Neal also discovered in their earlier days that fans in the crowd wanted to interact and be involved in the show. Not only the children but even adults loved being in the spotlight and feeling special at times. With this in mind Chris and Neal made sure to incorporate plenty of audience interaction into their act.
In fact, as the grand-finale, still to this day, Chris and Neal make one lucky child FLOAT in mid-air! This is a Kodak Moment you don't want to miss! Parents are delighted to see their little one levitating in their air and kids' jaws drop through the floor as gravity is defied in this science-busting illusion.
In their earlier days Chris says one of his favorite shows was at Porters Neck Country Club in Wilmington. Neal recalls an exciting performance at Pamilico Correctional Facility not too far outside of Jacksonville. Chris and Neal have also performed for many years with the North Carolina Special Olympics in Laurinburg, North Carolina as well as an event closer to home with Scotty McCreary from American Idol.
Chris and Neal credit the Lord for each opportunity that has been graciously given to them over the years. Beginning in 2012 Chris and Neal have coordinated a summer tour traveling through North Carolina performing in libraries with an educational show encouraging children to excel in reading.
Each year the tour seems to expand to new regions. Now, after 8 consecutive years of orchestrating this endeavor Chris and Neal are traveling to six states each summer. North Carolina, South Carolina, Virginia, Georgia, Maryland and Tennessee. Each of these states has kindly welcomed Chris and Neal into libraries with their family friendly educational magic show.
Chris Bays, the elder of the two illusionists, when behind the scenes bring much of the business administration to the table. Neal excels in marketing, advertising and often show booking. However, in 2014 Chris and Neal brought Joanie onto the team as their official event coordinator and clients have been thrilled to work with her, she makes booked an event a breeze. Joanie, originally based in Fuquay-Varina, North Carolina now lives in Wilmington and works harder than ever for what she considers to be the Carolinas' Top Magicians.
Magicians Chris and Neal have been greatly pleased in working with Joanie over the years. She's helped immensely with travel logistics, client communications, fee negotiations and more.
Now, after many years under their belt Chris and Neal typically travel to about 85 locations each summer and hope that number will hit 100 within the new few years. Neal, to this day, is always ambitious and really enjoys the thrill of going non-stop each summer. Chris enjoys the crowds and meeting so many new fans each year however does love some down time too.
Summer 2018 was a particularly major summer season. Chris and Neal were asked to perform and lecture at the IBM Convention where hundreds of magicians gather each year to learn trade secrets and build relationships with one another. Chris and Neal were able to share a small bit from their act with many other magicians and then delivered a lecture on the business side of their operations.
Summer 2018 the International Brotherhood of Magicians convention was hosted in Grand Rapids, Michigan. Chris and Neal flew into Grand Rapids from the RDU airport in Raleigh, North Carolina. Immediately after flying back to Raleigh and making it home to Jacksonville, North Carolina Rockstar Magic was back on the road (with only a few hours sleep) for a magic show in Hillsborough, NC several hours from home.
Forward thinking Chris and Neal, passionate for magic, have a hunger to continue meeting new friends as they travel, want to meet many more clients and travel other states. Neal enjoys
Back in 2016 Jacksonville based magicians Chris and Neal teased fans at the tail end of their tour at select locations with their brand new Red Carpet Experience. This is a unique chance for children, teens and adults to have their photo made with Chris and Neal on the Red Carpet in front of their massive 8 foot by 10 foot photo screen. These photos are often shared on social media with the hashtag "rockstarmagic".
The Red Carpet Experience was received remarkably well by fans in many cities that summer. The first city to have the Red Carpet Experience was Bennettsville, South Carolina, other locations included cities in North Carolina. Neal was ecstatic over their fans response - this was a wild and crazy idea he had. I mean, think about it, magicians performing in a library and meeting fans on the Red Carpet... how cool is that?! This was yet another way to continue building the brand by offering clients the best of the best.
Since the official introduction of the Red Carpet Experience in 2017 Chris and Neal have been ambitious to continue improving their act and making the impossible become reality on stage just as they have done in their real lives. Chris and Neal want each child to feel empowered to pursue their dream regardless of what challenges may be holding them back.
Chris recognizes his start in magic all began on a summer vacation as a teenager and Neal remembers fondly his days of early childhood performing magic tricks in elementary school for his peers. Both Chris and Neal know many children of disadvantaged situations are in their programs each year and want kids to realize their full potential regardless of what is holding them back.
On a deeper level Chris and Neal recognize their peace and strength comes through relationship with Jesus as their Lord and Savior. They both love the opportunity to share the gospel with others. In fact, several years ago Chris and Neal developed a creative program for churches using illusion as a tool to help teach children and families about Jesus. God has been gracious in affording Chris and Neal many opportunities to speak in churches across the region and travel to some in further areas such as Powder Springs outside of Atlanta and even San Diego, California.
As for the days ahead, magicians Chris and Neal are both optimistic and look forward to many more years amazing crowds together. As they both will frequently say, "this is only the beginning".
Categories: Fayetteville NC Magicians, Goldsboro NC Magicians, Jacksonville NC Magicians, Morehead City NC Magicians, New Bern NC Magicians, Raleigh NC Magicians, Wilmington NC Magicians
/